Cantilever: Meco Omaha
Factory Locations: Omaha, Nebraska 68110
WPRP Quick Ship Locations: Maple Grove, MN 55369
WPRP is a wholesale supplier of Meco Omaha cantilever rack. Made using all welded steel construction and sporting a grey enamel finish, Meco Omaha's cantilever racks provide a superb storage solution for applications involving steel, furniture, piping/tubing, lumber, and other long or oblong materials that require open-sided storage racks. At WPRP, we carry Meco Omaha cantilever rack in our Maple Grove, Minnesota warehouse, allowing us to quick ship cantilever rack within 24-48 hours of order placement. We're also able to ship cantilever rack factory-direct from Omaha, Nebraska. To learn more about the product or place an order, give us a call at 888-578-1579 and we'll be happy to help.
---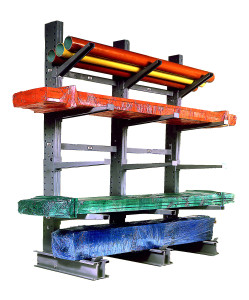 Cantilever: Meco Omaha
Some materials can't be stored on pallets or neat, rectangular racking. Difficult-to-store items such as those mentioned in the above paragraph can be a drain on the efficiency and organization of a warehouse. Cantilever racking from WPRP offers a solution to the problem of storing bulking, lengthy materials. Proudly manufactured in the United States, WPRP's Meco cantilever rack is as versatile as it is strong.
Features
X-Bracing increases lateral stability
Arms are adjustable based on varying needs
Straight arms and inclined arms available for flat or cylindrical objects
Hair Pin Keeper attaches arm to upright
Standard grey enamel finish, custom colors available