Factory Locations: Stevens Point, WI 54481
Chicago, IL 60160 | Carrollton, TX 75006 | Pontiac, IL 61764 | San Diego, CA 92154 | Sumter, SC 29154
WPRP Quick Ship Locations: Maple Grove, MN 55369
Interlake Mecalux Pallet Rack
Interlake Mecalux is among the most widely-used pallet rack brands in the world, and for good reason. Interlake has earned its exceptional reputation and recognition through the production and supply of top-notch pallet rack combined with over 50 years of industry presence.
---
Interlake Welded Teardrop Pallet Rack
Features
Many Quick Ship Sizes
Two-inch vertical adjustability
High-strength steel certified to meet the strictest specifications
100% welded uprights
---
Interlake Bolted Teardrop Pallet Racking
Interlake Mecalux teardrop pallet rack is one of the most common styles and manufacturers of selective pallet racking in the United States.
Features
Many quick ship sizes
Two-inch vertical adjustability
Adapts to any product volume, weight or size
High-strength steel certified to meet the strictest specifications
---
Interlake Structural Pallet Rack
Interlake structural rack systems are manufactured using hot-rolled structural steel frames with the flexibility of structural or roll formed beams. The open channel structural steel design meets all industry strength requirements.
Features
Rigid
Wide range of frame capacities
Structural or Roll Formed beam optioin
Debris resistant, cleans easily.
---
Interlake Carton Flow
Interlake carton flow rack systems are ideal for companies that desire FIFO picking of full cartons and single items. These systems use the power of gravity to flow the products forward for picking.
Features
FIFO shelving system
Can save 25%-75% in labor over static systems
Speedy assembly
Compatible with standard pallet rack
---
Interlake Pallet Flow (Gravity Flow) Pallet Rack
Interlake pallet flow rack systems are the ideal solution for pallets that need to be FIFO (first in first out). These systems utilize gravity to move full pallets along rails of flow wheels from the loading end towards the pick aisle.
Features
FIFO shelving system
Wide range of capacities
Increase warehouse capacity
Increases operational productivity
---
Interlake Push-Back Pallet Rack
Interlake push-back rack systems are ideal for multiple product storage situations. Each pallet is loaded from the front on the rack system onto a free rolling cart that can be PUSHED back when the next pallet is loaded.
Features
FILO (first-in first-out
Exceptional space utilization
High selectivity of multiple SKU's
Pallets flow to front pick location
---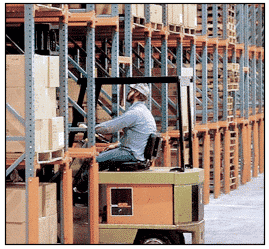 Interlake Drive-In Pallet Rack
Interlake drive-in rack systems are ideal for high density storage needs. Forklifts and loading equipment actually drive in / thru the rack system for loading and unloading pallets. These systems are most efficient when storing high volume of a small amount of SKU's.
Features
Multiple-pallets deep
Customizable heights and depths
FILO (first-in last-out)
---
Interlake Light Duty Shelving
Interlake light duty rack systems offer a solution for your odd-sized hand loaded items. Works with both wood or steel decking.
Features
Wood or steel decking
Quick configuration
Durable & safe)
---
Interlake Accessories
We have access to all of your Interlake product accessories. Call 888-578-1579 for more information on any of the following items: bolts, bolt-together column struts, plastic spacers, foot plate hardware, toe boards, shims for interlock frames, standard shims, seismic shims, cantilever shims, connection kits, handrail posts, Interlake Paint, M dividers, Reel Rod Holder, Lumber Holders, Hammer tool holders and more.
---
Teardrop Pallet Racking
Bolting vs. Welding
The most frequently asked question that has been brought up has to do with whether welding is better than bolting from a structural viewpoint. The answer to this question is surprisingly simple. Both of these types of connections have been the basis for thousands of structures over a period of many years. Neither of these connections is better from a structural viewpoint for the type of load that has to be carried by these frames.
The real question should be,"Are the frames designed properly for their intended use?"
This can be answered with great assurance because Interlake rack is designed to the highest standards. As long as the engineer has good Information regarding the loads to be imposed on the rack and adheres to recognized structural engineering principles as given in the aforementioned documents, the design of the rack will be structurally sound.
---
Interlake Mecalux Teardrop Pallet Racking Photo Album
Strategic Shipping Locations Nationwide
Our multiple shipping points and network of manufacturers allow us to get your pallet rack products to you fast.
Phoenix, AZ 85009
San Diego, CA 92154
Fontana, CA 92337
Lodi, CA 95240
St. Paul, MN 55107
Frankfort, KY 40601
Marysville, MI 48040
Quincy, MI 49082
Pontiac, IL 61764
Maple Grove, MN 55369
Columbus, OH 42307
East Stroudsburg, PA 18301
North East, PA 16428
New Salem, PA 15468
Elizabeth, NJ 07201
Sumter, SC 29154
Nashville, TN 37218
Springfield, TN 37172
Carrollton, TX 75006
Grapevine, TX 76051